Welcome to Global Grace Seminary! All of our courses are completely self-paced and found entirely online, to afford our students the flexibility of earning their degree within the framework of their personal schedule. Students may take classes at any time, from anywhere! Our degree programs are designed to be challenging, objective, and relevant for careers in ministry, but are not limited to such pursuits. The rewards of discovering God's Grace will transform our lives, enhance our careers, enrich our families, and provide us a foundation in our relationship with God. Students come to GGS from across the globe with diverse backgrounds and educational or career goals.
Accreditation
Global Grace Seminary seeks to provide a Graced-based education that is affordable, flexible, and practical. We are committed to developing a high-quality curriculum that is free from undue influence or interferes with our doctrinal, academic, operational or financial freedoms.
In accordance with this philosophy, Global Grace Seminary's is proud to be a FULLY ACCREDITED MEMBER with Theological Accreditation International, headquartered in Baton Rouge, Louisiana. TAI is a private accrediting association committed to spreading the Gospel through academic credentialing and partnership.
Global Grace Seminary Team
Dr. Don Keathley
President and Founder
Dr. Don Keathley, President of Global Grace Seminary was born in Battle Creek, Michigan and lived there until he graduated from Marshall High School. Don is married to his wife Linda and they have two grown married daughters Janell and Shawn and four grandchildren . He has pastored churches in Michigan, Wisconsin, Florida and is the founding pastor of Grace Point Community Church in Houston, Texas. Grace Point was established in 1987 and is a nondenominational community church. Don has received degrees from Olivet Nazarene University and a PhD degree from Barnham Graduate School and Seminary. As president of Global Grace Seminary he brings over 40 years of pastoral experience and a heart to develop leaders who are on the cutting edge of the message of grace and the finished work of the cross.
Follow his ministry by clicking right here!
Dr. Cecil Cockerham
Vice President and Co-Founder
Dr. Cecil Cockerham is married to Janet Frazee Cockerham for "more than a day" as he often says. They have 4 adult children, many grandchildren, and some great-grandchildren. They are members of Grace Point Community Church.
He is co-founder/vice president of Global Grace Seminary, founder/president of the Christian Institute for Counselor Certification, Inc., founder/president of the American Seminary.
His education includes a Doctor of Psychology, Doctor of Divinity, Certified Anger Management Therapist, a Certified Emotional Freedom Techniques Practitioner, Peacemaker Training I, II, and III – A Biblical Guide to Resolving Personal Conflict, a Divine Healing Technician, trained by the John G. Lake Divine Healing Institute, and holds a Mediation and Advanced Dispute Resolution Certificate. He has been involved in Higher Education since the mid 1980's. He earned his Doctorate Degree by developing College-Level Curriculum in biblically based counseling.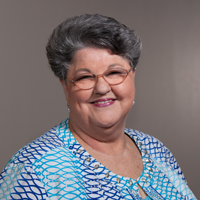 Janet Frazee
Lead Registrar
Janet Frazee serves as registrar for GGS. She comes to GGS with several years' experience as registrar for two other schools. Janet holds a Masters of Arts in Intercession Mediation and is currently pursuing a doctorate. Janet has worked for the last 13 years in church offices after retiring from a professional career. She and her husband have ministered for many years to couples and families. Janet also spent many years ministering and teaching women in her church.
Dr. Matt Pandel
Dean for Academic Affairs
A trained behavioral psychologist and theologian, Dr. Matt Pandel is first and foremost a communicator.  His experience is varied and includes over two decades in mental health practice and academia.  He holds terminal degrees in Theology and Psychology, as well as having completed undergraduate and graduate work in education, ministry, and family therapy.  He is a member of the American Psychological Association's Society for Pediatric Psychology, is a Qualified Mental Health Professional for Children and Adolescents with the Virginia Board of Counseling, is a Certified Professional Coach, and is a Certified Clinical Trauma Professional (CCTP). 
 
In addition to his work as Academic Dean and Professor of Trinitarian Theology and Coaching at Global Grace Seminary, Dr. Pandel is a published author, maintains a private consulting practice, is Director of the Unconditional Grace Ministerial Association, and serves as a regional mental health advisor to local governments.  He resides in the picturesque Shenandoah Valley of Virginia with his wife and best friend, Carrie.

To learn more about Dr. Pandel, click here!